Poiré, in English 'perry', is just like cider fermented 100% pure juice, but from pears. A number of cider makers also have pear trees and, in addition to cider, also make poiré or perry.
The Dutch Uwe, for example, has a nice fresh-dry perry cider and many English producers such as Dunkertons, Gregg's Pit, Oliver's and Once Upon a Tree make a very nice perry in addition to beautiful ciders. The latter even makes a special dessert perry called 'The Wonder'. The three counties (Herefordshire, Worcestershire and Gloucestershire) in England are known for their excellent perries. Due to the Slow Food UK movement, perry with the origin Three Counties Perry has been included in the so-called Ark of Taste. Many French poirés come from the Domfront region, around the town of the same name.
Appels en Peren has about 20 different poirés and perries in stock. Like cider, the taste of poiré varies from fresh sweet to very dry. Many poirés have a fruity characteristic pear scent and a pleasant acidity. Delicious as a delicious fresh aperitif, but also to enjoy with lunch or dessert.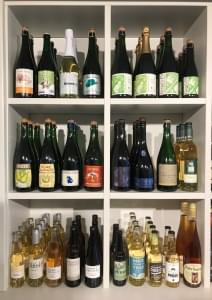 Pear varieties for poiré and perry
Important when making a beautiful poiré or perry are, besides terroir and the craftsmanship during the production process, the pear varieties used. English perry pears often have separate names, named after their shape (Red Huffcap, Black Huffcap), their first grower (Judge Amphlett, Stinking Bishop) or the effect the drinking would have (Merrylegs, Mumblehead). There are over 100 different species in Gloucestershire alone. The most commonly used perry pear variety in England is the Blakeney Red.
French poiré pears come in at least as many varieties. 30 different poiré pears are used in the Domfront. These are often small pears such as Rouge Vigné, Gros Blot, Plant Roux, De Cloche and Gaubert. For the predicate Appellation d'Origine Protégé To be allowed to feed Domfront, the poiré must also consist of at least 40% from the juicy and sour Plant de Blanc pears. But often that is a higher percentage of 60-80% or even 100%.