Below we proudly present the cider makers from France whose ciders and/or poirés we sell in our shop. Mainly from Normandy and Brittany, but also from Champagne-Ardenne and the Basque Country, for example.
Eric Bordelet is arguably one of the most acclaimed cider makers worldwide. Nearly 25 years ago, Bordelet made a career switch as a sommelier at the Parisian 3-Michelin star restaurant Arpège and took over the family orchards. In Charchigné in Normandy, he grows about 20 apple cider and 15 poiré pear varieties in a biodynamic way. After hand-picking and drying for 3-9 weeks, the finely chopped fruit is manually pressed with a wooden press. The result after several months of fermentation at 5-10 degrees: refined ciders and poirés.


The Breton family business, Séhédic, has existed since 1950 and is certified organic. Séhédic has almost 20 hectares of orchards in the Fouesnant region. They grow about thirty different types of cider apples in these orchards. The majority of these species originate from the Fouesnant and Cornouaille regions. About 1/3 of the trees are standard trees, the rest are low-stem. No pesticides are used. The apples are partly picked by hand and further collected with a special machine: the ramasseuse automotrice. Séhédic also combines authentic methods with modern equipment in the production of the cider.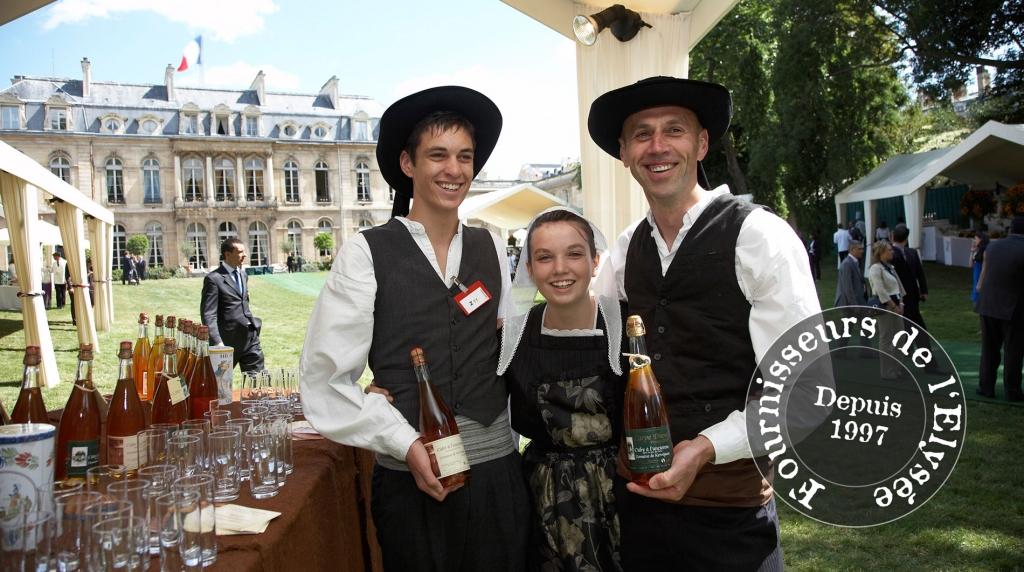 Domaine de Kervéguen is a family business in Brittany that has been producing cider for four generations. And in a special way: namely with a Coquart press or a champagne press. After pressing, the juice is fermented in wooden barrels, which contributes to the flavor development of the cider. The result: very tasty and complex certified organic ciders that can be delivered to the Elysée.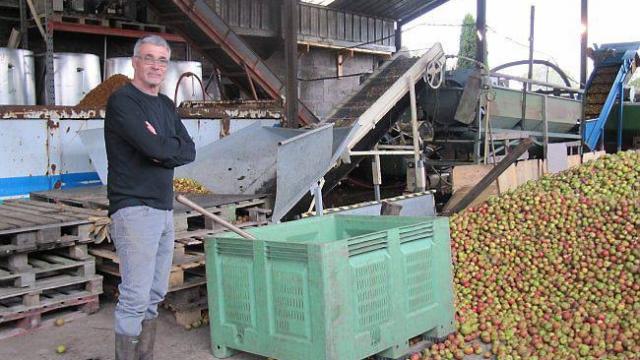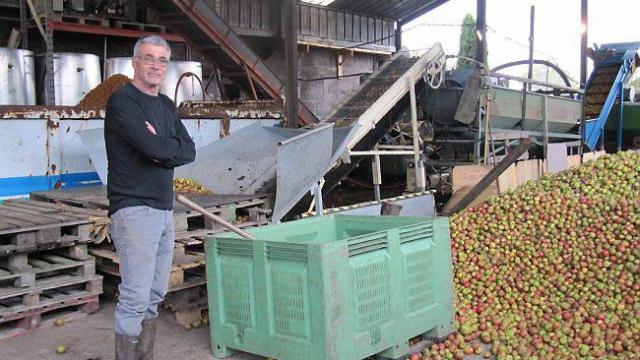 Since 1997, Jehan Lefèvre has been producing his own ciders, juices and vinegars on his Les Landes farm in Brittany. The farm includes 12 hectares of orchards where various apple varieties grow. The ciders are organic, made from our own and local apples and are made from 100% pure juice with no additives.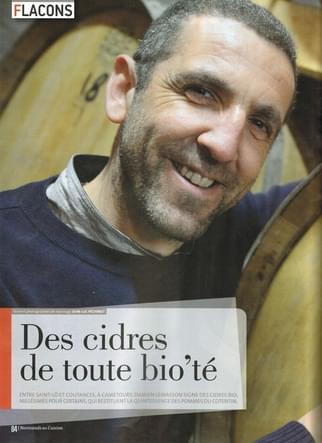 The Lemasson family has been running a farm in Normandy for generations. In 1988 the farm was certified organic. Daniel Lemasson moved the cider factory to Cametours in 2004, where he passionately makes organic cider and calvados from 22 different cider apple varieties.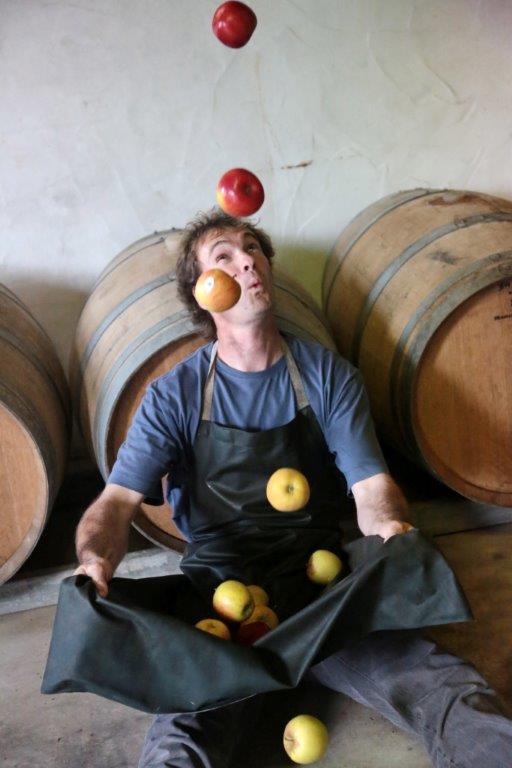 Bixintxo Aphaule started his career as a winemaker, but his love for cider soon grew. In order to stay closer to home and the Basque traditions, he decided in 2001 to produce cider together with his wife Pascale. The ciders are made from local apple varieties from our own orchard and from orchards of surrounding farms.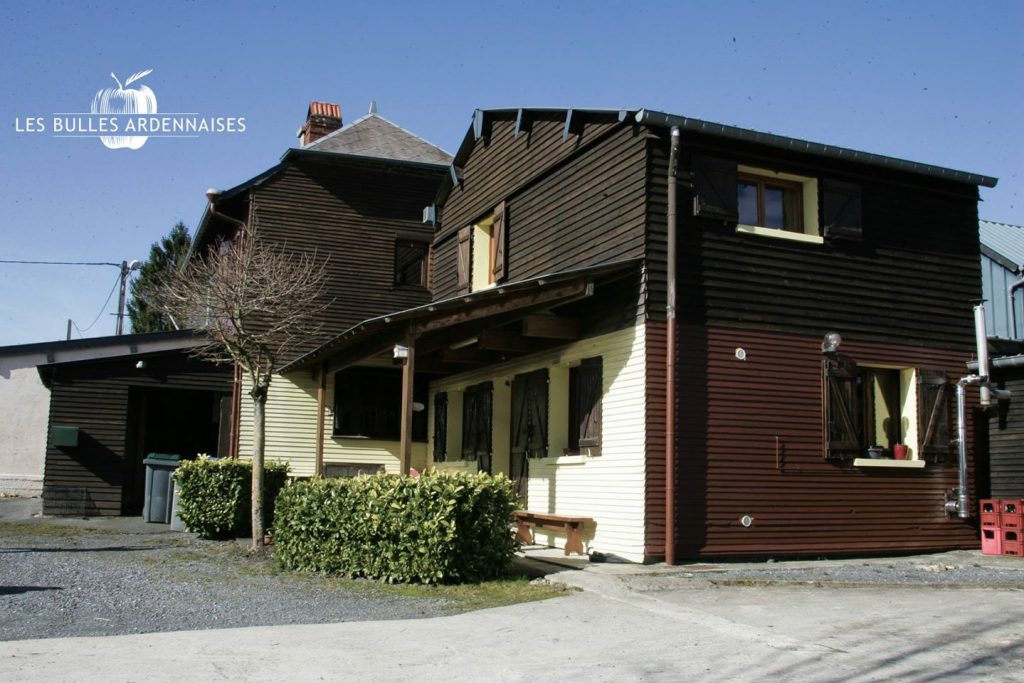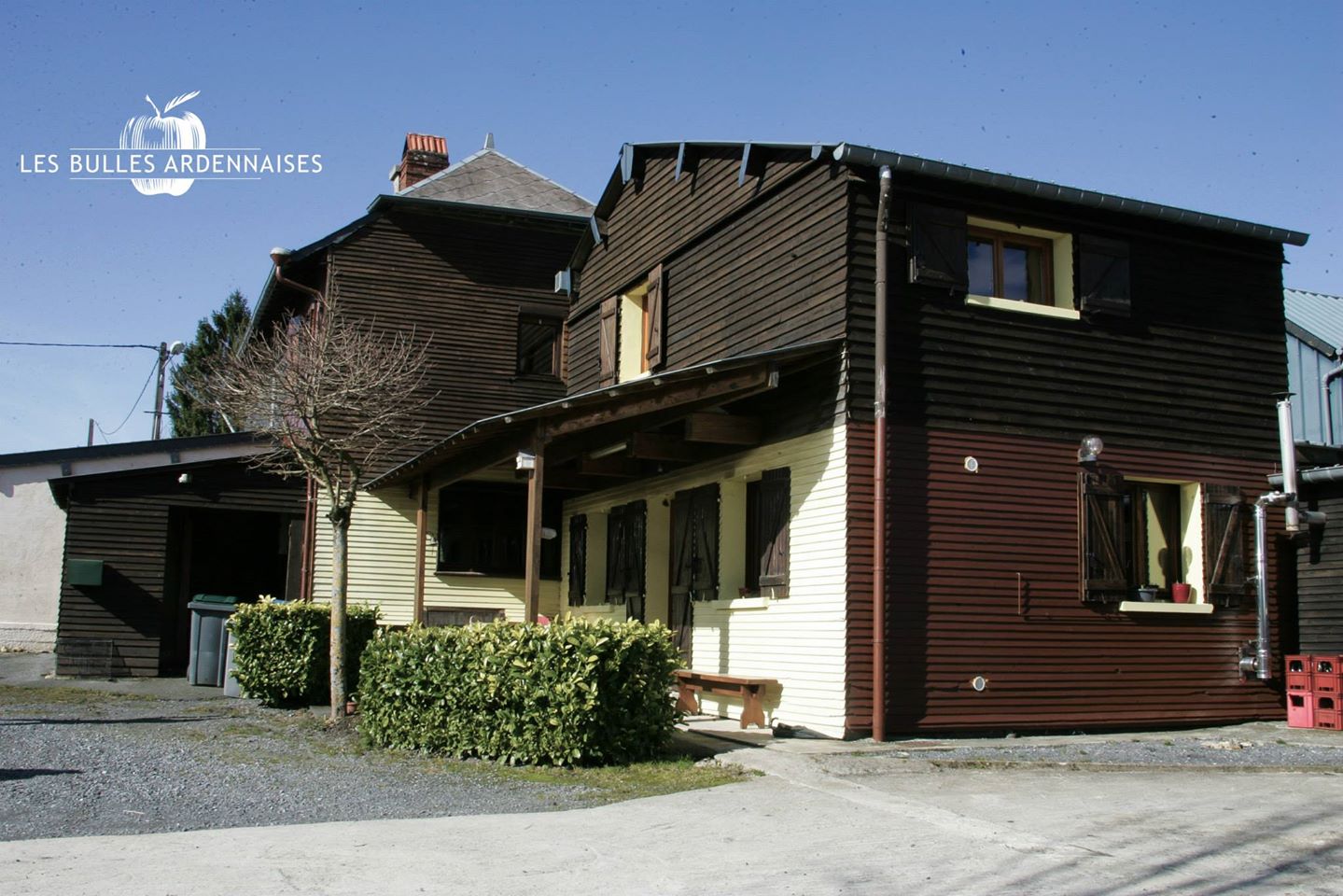 This cidrerie in Lalobbe (Champagne-Ardennes) has been in operation since the mid-nineties. The seven cider orchards are run by Etienne and Blandine Capitaine. In addition to 'normal' cider and poiré, they also make a large number of other cider-based drinks with the addition of fruit juice. Also in the range of Les Bulles: a large number of fruit juices, vinegar of poiré and cidre and an alcohol-free sparkling apple drink.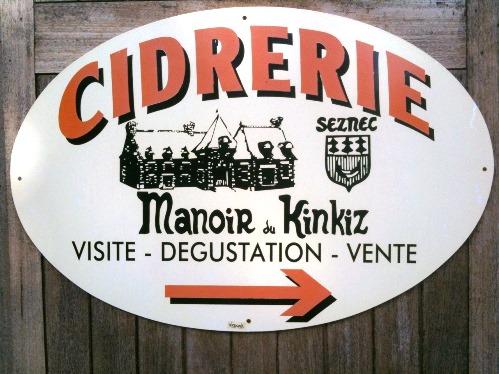 Manoir du Kinkiz, a French cider producer from Brittany, produces regular award-winning ciders. Knowledge passed down through generations ensures quality ciders with special flavors. 21 different apple varieties are grown in our own orchards, which are collected manually. The cider apples are then carefully blended, ground, fermented and aged in oak barrels.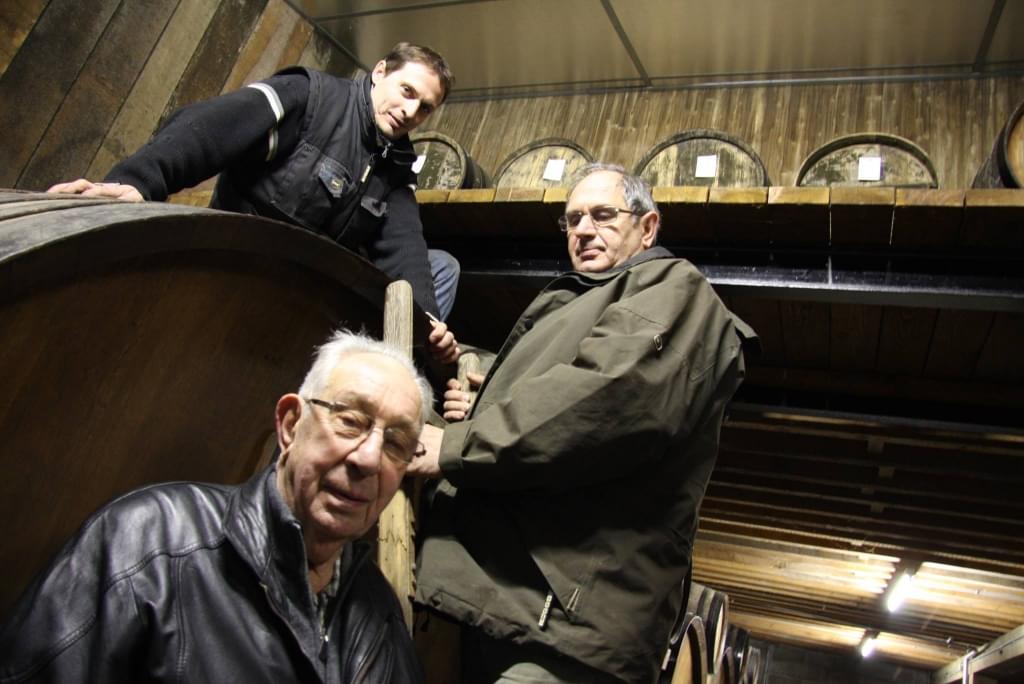 Le Père Jules is a family business in Normandy founded in 1919 by Jules Desfrièches. In 1923 'father Jules' also started making calvados. The cider apples (and pears) come from our own orchards so that the ciders bear the IGP (Indication Géographique Protégée) quality mark and the calvados the Appellation Calvados Pays d'Auge Contrôlée. Today, three generations of Desfrièches are involved in the traditional production of cider, poiré and calvados.
Close to Caen in Normandy (the village of Rock), the Vauvrecy family has been making cider and calvados since the 1980s. In the orchards of Ferme de Billy, next to an old chapel, there are about 24,000 apple trees of 16 different apple varieties, both standard and low-stem. The cider is bottled while it is still fermenting, creating natural carbonation.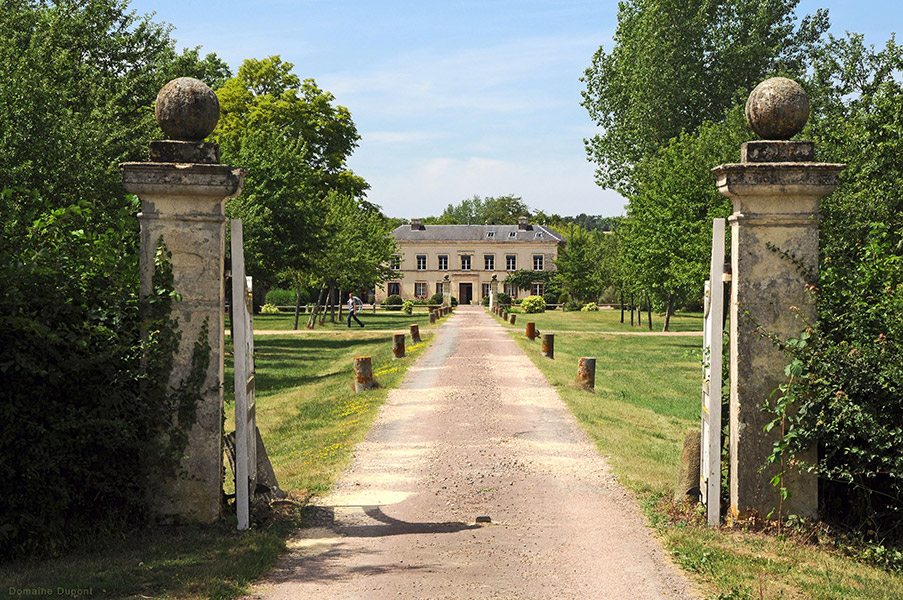 The Domaine Famille Dupont is located in the heart of the Normandy Pays d'Auge region in Victot-Pontfol. It is a family business that has been producing top calvados and ciders since 1887. Owned by the family since 1916 and from 1980 by Etienne Dupont, truly specialized in these drinks. Anne-Pamy, Étienne's daughter, is today responsible for the company that can be seen as very modern. The approach to cider is also a bit different from other producers: they employ a winemaker for this. The result is a varied range of ciders for different moments.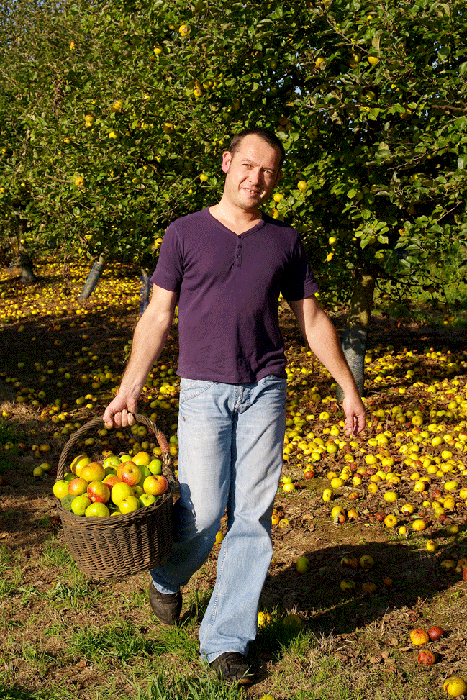 The Cidrerie de Château de Lézergué is located in the Breton region of Cornouaille. A region with a long tradition of cider making.
The three brothers (Guillaume -in the photo above-, Matthieu and Joseph) passionately make their medal-winning ciders here. Château Lézergué has some 30 hectares of apple orchards, which, due to their location and the soil on which they stand, produce cider apples of exceptional quality.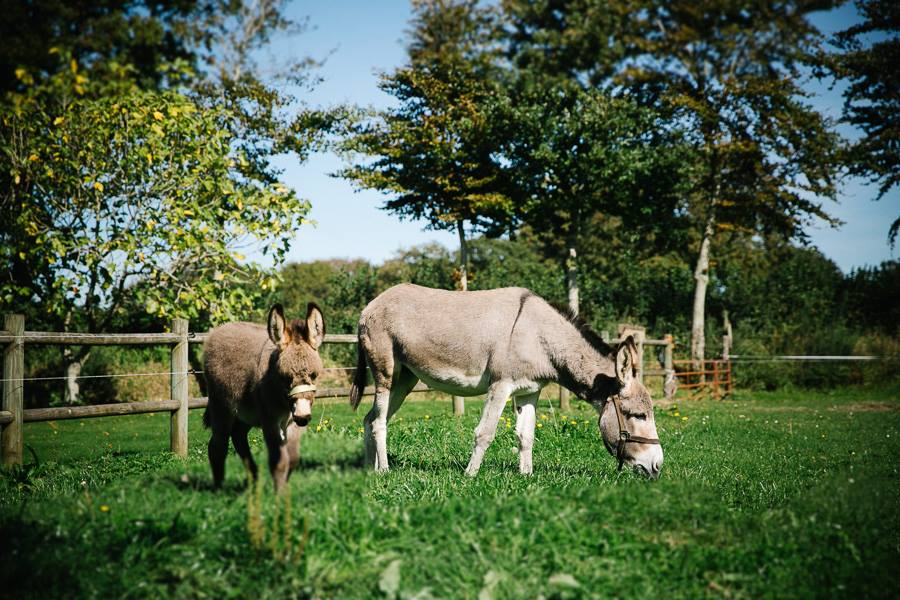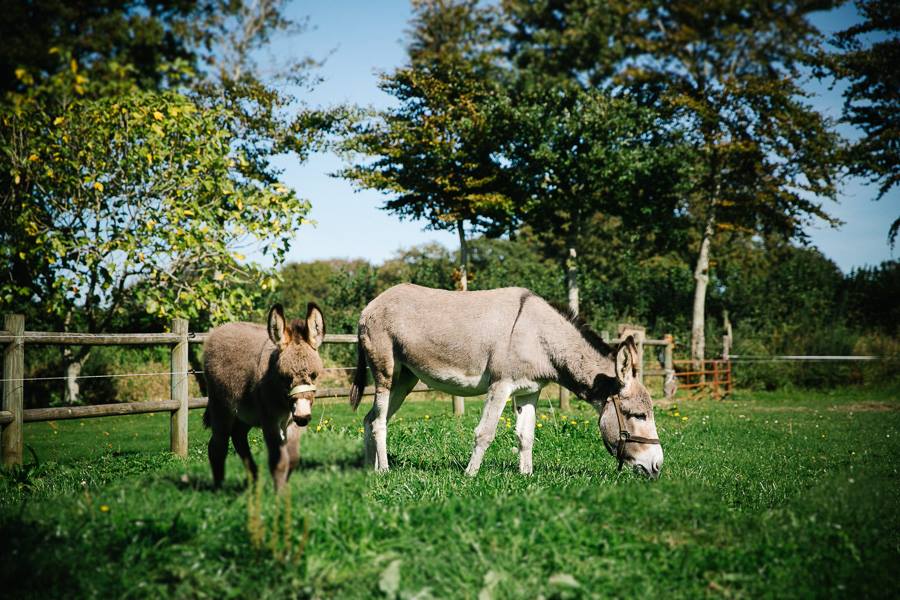 The Théo Capelle cider house is a family business in Normandy where the knowledge has been passed on for generations and where great importance is attached to family values. In 2007 the company was taken over by son Ludovic, but Théo is never far away from the farm.
The ciders and calvados they produce are made exclusively from apples from their own orchards. The juice is slowly fermented and extensively tested during the process to achieve the best quality. The cider is then bottle-fermented and allowed to mature further in the cellars of the cider house to become flavoursome and effervescent ciders.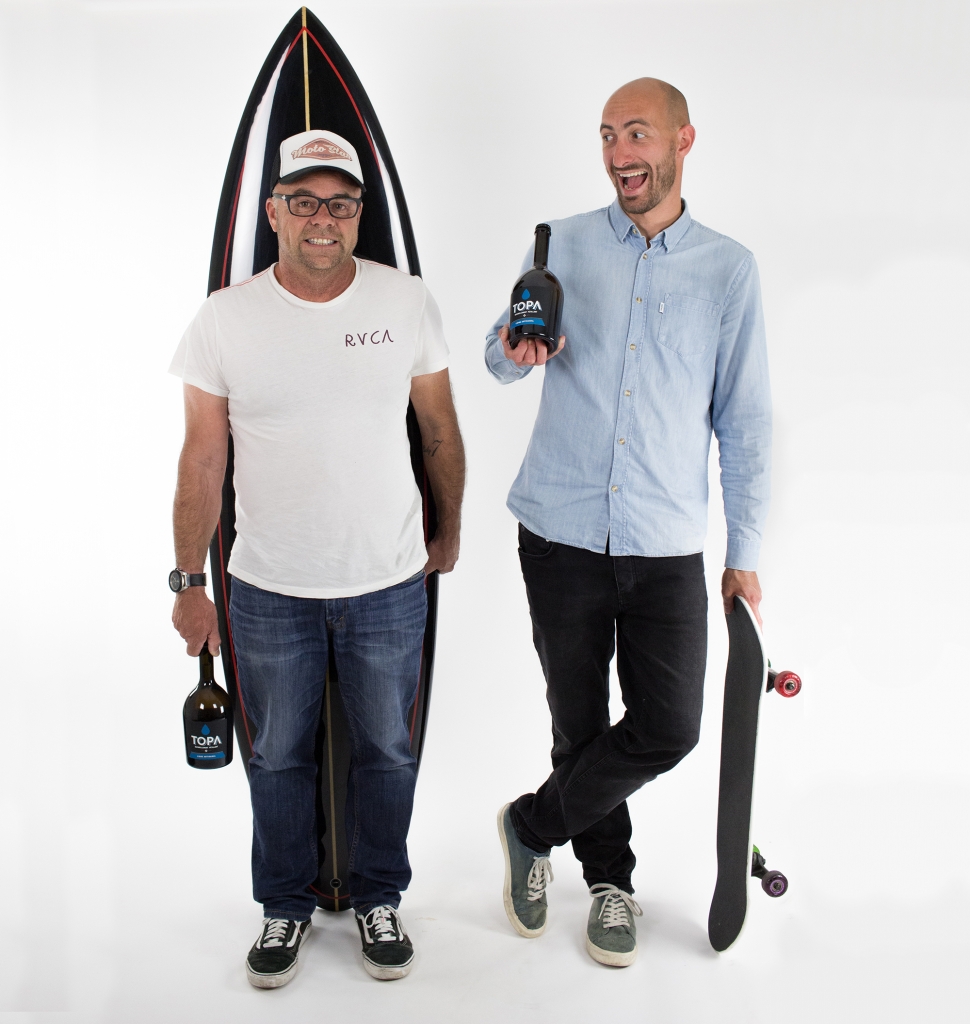 Greg and Pascal, the founders of TOPA, wanted to give the historic Basque cider a modern twist. With respect for the local traditions, they have developed a 100% Basque and natural cider that represents the mentality of the Basque Country.
TOPA is made from more than twelve apple varieties (including Anisa, Urteby, Errezilla, Minxuli, Mendiola, Gordin Xuri, Eri Sagarra, Ondometxa). The untreated apples come from local farmers who respect nature and the originality of the apple varieties.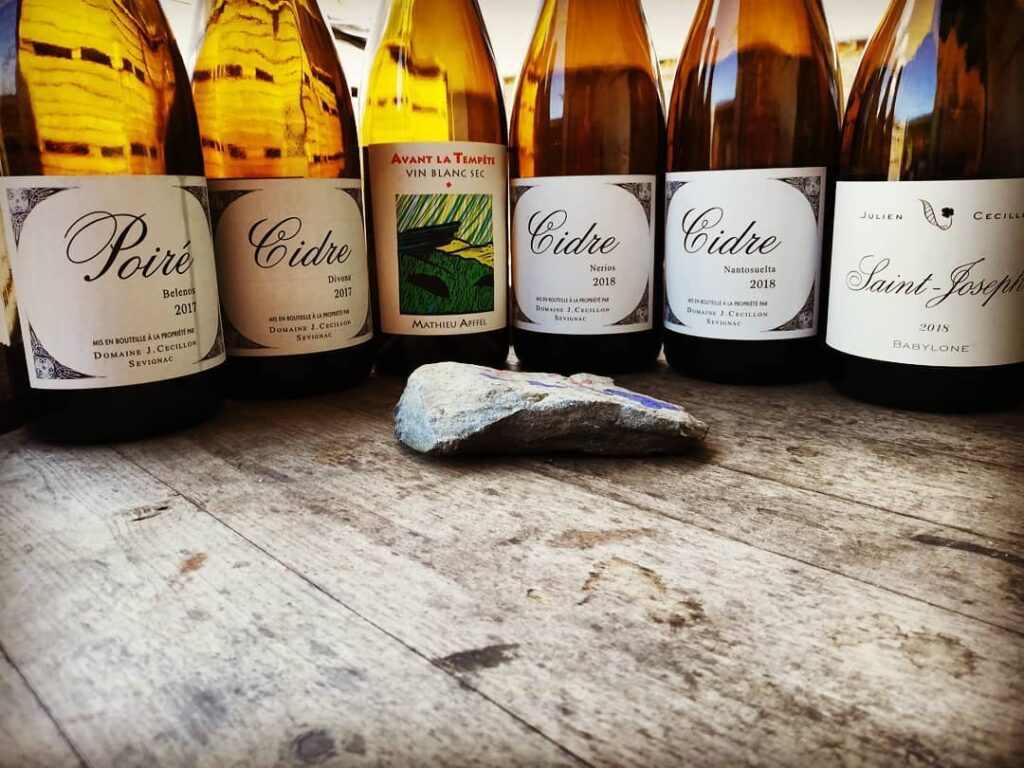 Domaine Johanna Cecillon's ciders are produced by the French couple Johanna and Louis. They are the owners of eleven hectares of land in the communes of Sévignac and Trédias, in northern Brittany.
In these orchards they grow 14 different kinds of special cider apples. Hence, they have not only sweet apples, but sour and bittersweet apples as well. As a result, all these apples give the ciders a special taste of their own. The orchards are very pristine, they do not use chemicals out of respect for nature. In addition, there is pristine and natural vegetation around the trees and orchards.
In addition, Domaine Cecillon's ciders are organic and no sulfites are added. The apples are picked by hand and stored in a dry place in bags until they reach the correct ripeness. After that, the fermentation takes place in tanks. Then the assembly takes place in oak barrels, with natural yeast. The carbon dioxide occurs naturally, after bottling.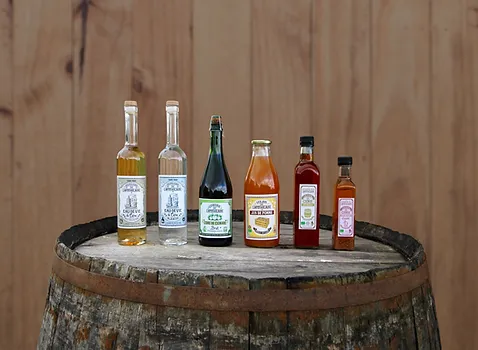 Cidrerie l'Apothicaire was founded in 2018 by Matthieu Huet. After several years of working as a pharmacist, he decided to change course and start a cidrerie. After a year of preparation, he settled in southwestern Brittany (Finistère) in the town of Clohars-Carnoët, where he also grew up.
Decisive for his choice for Clohars-Carnoët was the fact that a lot of cider is traditionally made in this village. As a result, there are many (cider) apples available. In addition, the village is within the area of the AOP (Appellation d'Origine Controlé) Cornouaille. The only region in Brittany with an AOP for cider, Pommeau and Lambic.
Matthieu and his wife Nolwenn make cider in a natural and traditional way. A talented new cider maker, currently producing a very limited number of bottles. We are very proud that we were able to buy some boxes for cider lovers!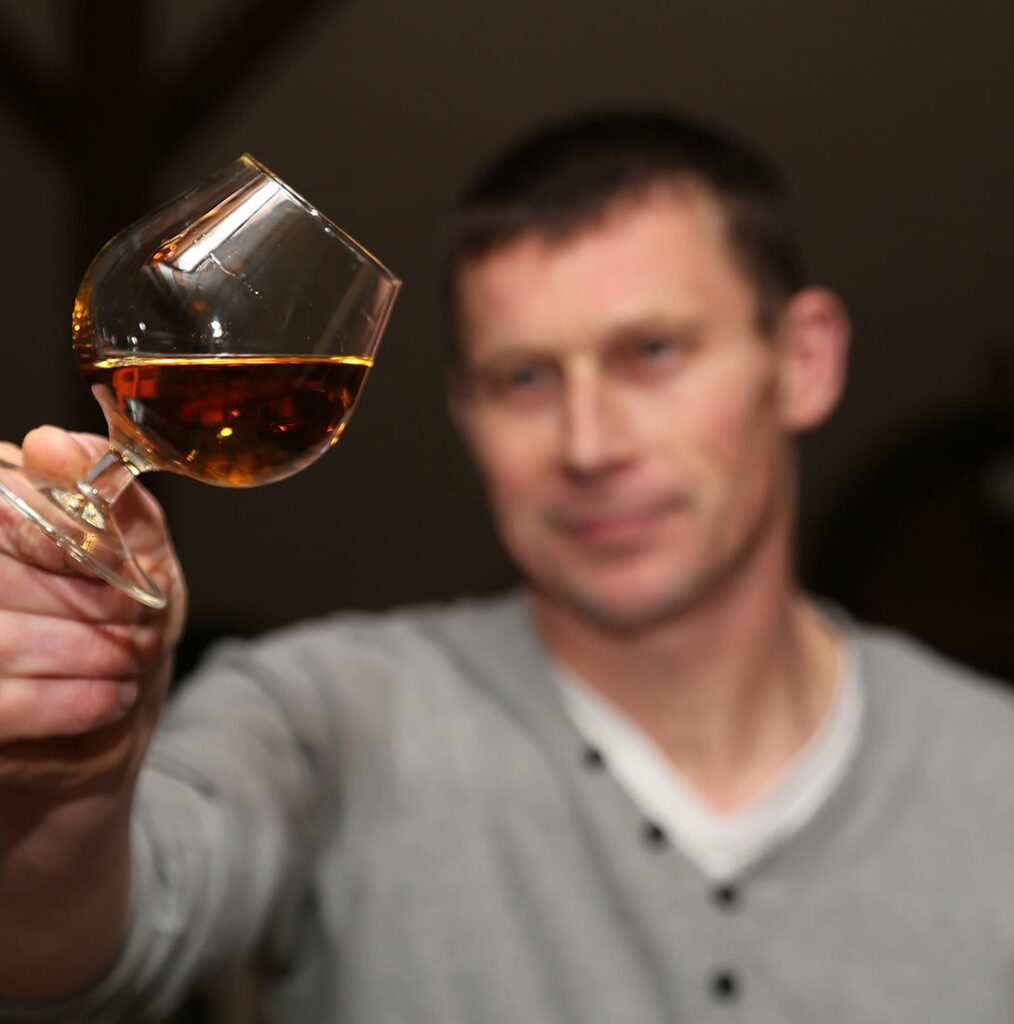 The family business La Cave Normande of the Geusdon family has existed since 1950. The company is part of the Domfrontais appellation, a guarantee of high quality. 
On the family farm, hundred-year-old apple and pear trees have been planted by the older generations of Geusdon. The orchard includes the typical Domfrontais varieties such as Plant de Blanc, Fausset, Blot, Champagne and Gros Gontier.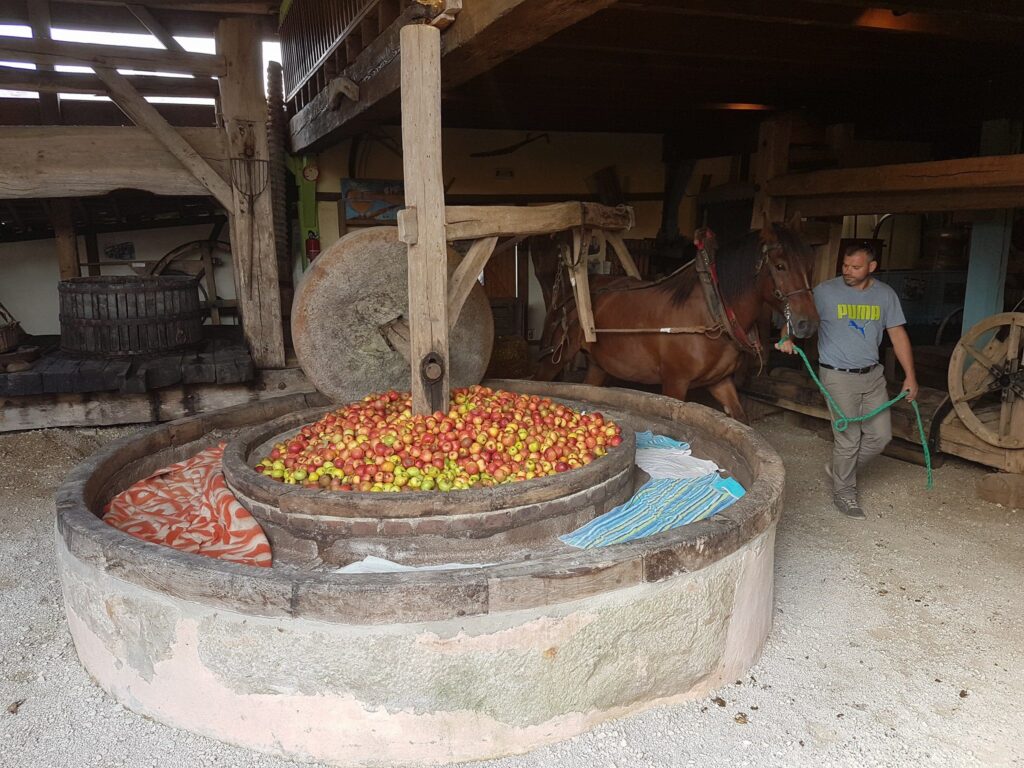 On the south side of the Champagne region in France is the region 'pays d'othe', where since the 16e century cider is produced. This also applies to Ferme d'Hotte, which has been making cider here for thirty years in the town of Eaux-Puiseau. This area is a popular cider region, because of the 40 varieties of local cider apples. These were originally wild apple varieties, but the amount of cider produced here has led to the cultivation of these apples.
The apples used for Ferme d'Hotte's ciders are grown in our own organic orchards. The trees stand in a hilly landscape with a shallow, calcareous soil with a high clay content. It is also rich in flint, which adds a distinctive mineral flavor to the ciders.
Ferme d'Hotte has two types of orchards. The traditional standard orchards are hand-picked and modern low-standard orchards are machine-picked. Both are pressed almost immediately after harvest. After a fermentation of 3 to 4 months, the ciders are bottled and a second fermentation takes place in the bottle. This is a method very common in the Champagne region.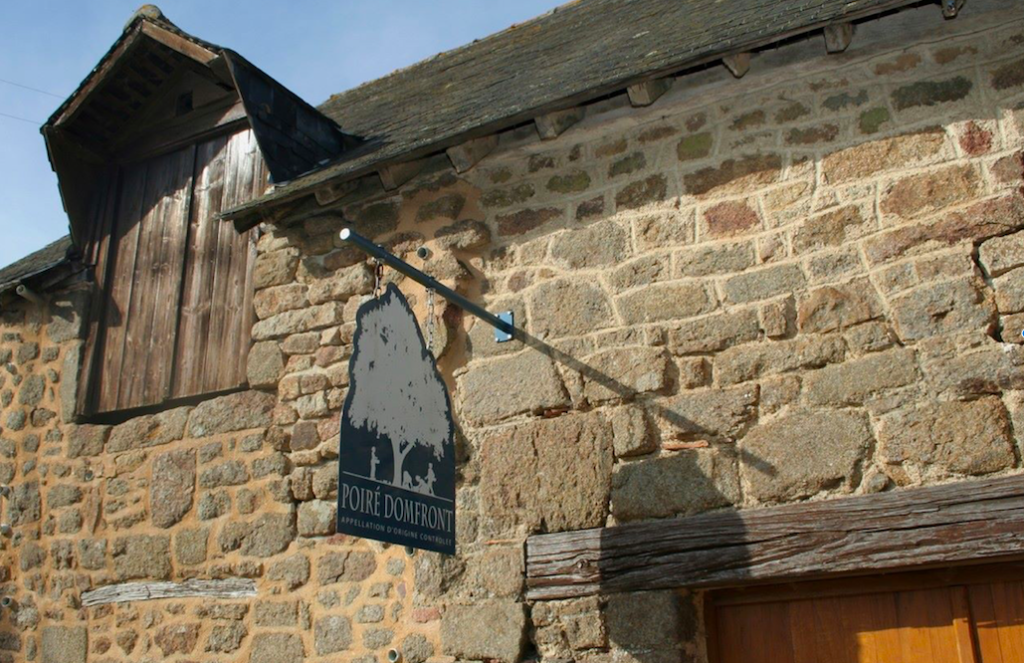 In Saint-Fraimbault (Orne, Basse-Normandie) the organic certified farm Ferme de la Poulardière of the brothers Dominique, Michel and Stephane Leroyer has been located since 1998. They produce cider, poiré, fruit juices and vinaigre de cidre. It is a mixed farm where the dairy cows fertilize the orchards during the growing season.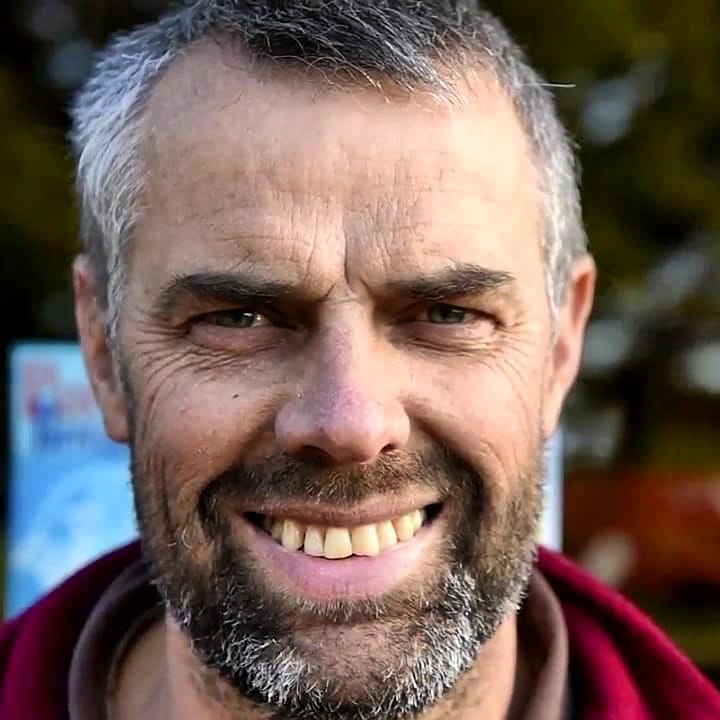 Located in the heart of the interior of Cornouaille, the Melenig cider is located.
Melenig consists of seven hectares of orchards of seven traditional varieties of cider apples! These apples are grown organically there. Ciderie Melenig offers a very distinctive and original production.
Christian Toullec and Christian Saccardy combine their talents and know-how to get the best out of it. As a result, they are the only ones to offer an organic AOP Cornouaille cider!
look at here all ciders from Ciderie Melenig.