In this historical period of time, it is quite hard for all of us to travel like we used to do. So take a glass of cider because today I want to make you travel with your mind and bring you to a cider area that has fascinated me for the last couple of weeks: Cotentin.
Here the cider tradition is so well embedded that I feel compelled to introduce a little bit of history to you. (Well, a little is an understatement)
Cotentin is located on the peninsula of Normandy region, in the north west of France, one of the most known and main regions for cider production along with Brittany and Pays Basque. In Normandy the apple is considered the fruit of immortality, representing long life, wisdom and love: cider was born here in the 13th century.
The local windy maritime-oceanic type of climate (low temperatures, abundant rainfalls) was offering the perfect conditions to grow apple orchards, it was not suitable for growing vines. Hence cider came to the fore as Normandy's favourite beverage (more than 300 types of apples were grown at that time).
Here traditionally orchards were planted by farmers with the haute-tige (high trees) system so livestock could be grazed, fertilizing the soil and roots, maximizing in this way the use of land. These premises though, were not benefitting the reputation of cider, in fact this apple beverage was considered to be a cheap substitute and wine the superior drink. However, two important factors changed the perception and approach to cider until now: the arrival of the spanish from the Basque Country and new growing techniques from Guillame d'Ursus.
The arrival in Normandy of the spanish from the Basque Country brought new types of apples, marking the beginning of the use of bittersweet apples by the french. These apples were rich in tannins, one of these was the Bisquet apple. On top of that, the pioneer Guillame d'Ursus, a man from the Basque Provinces, played an important role by grafting in Valognes (Cotentin)new apple varieties such as the pomme epices (spiced apple). He also introduced more sophisticated cultivation and production techniques; in such a manner he made cider very fashionable and at that time it gained back its popularity.

AOP Cotentin: the wait is worth it
As years went by, techniques and production methods improved. By the 20th century the quality of Normandy's cider, poiré and calvados was recognized throughout the nation. So much that in 2016 Cidre Cotentin, in specific, got its AOC appellation and since 2018 is recognized at a European level with AOP classification.
This implies that with the AOC appellation producers have to safeguard the tradition and the typicality of a product, guaranteeing standard of quality production.
Also with Cotentin AOC there are standards to follow. Firstly, the apples used must beindigenous, secondly the proportions of apples used are carefully selected (up to 70% bittersweet apples) and collected from the ground at optimum maturity and finally, they must be unpasteurized without any addition of water, CO2 or cultivated yeasts in order to achieve the AOC Cotentin.

(Thanks god the necessary long part is out of the way)

One of the 9 producers that I wanted to introduce to you today and who is part of the AOC Cotentin, is Daniel Lemasson. He is based in Cametours, 20 minutes east from Saint-Lô in the Manche region. For generations, Lemasson has been just a family farm with some orchards uniquely for their own benefit. In 1988 his farm was certified as organic viticulture. But just in 1999 Daniel Lemasson developed his cider business, maintaining his family values such as preserving the environment, the diversity of different species and making use of only local apple varieties.
Cider tradition in Normandy is still nowadays very much one of farmhouse production: he is a small producer having 4.5 ha of low stem apple orchards, 3 ha of high stem, and as previously mentioned above, like many of other producers in Normandy, he also has 3 ha of meadow for animals such as sheep, horses and cattles. More traditional than this it couldn't be!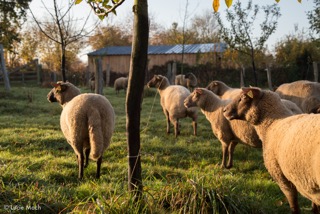 But why ageing wine and not cider?

Of all Lemasson ciders, one in specific came to my attention: Cidre Brut Cotentin AOP 2018 Millésime. It is a certified organic keeved cider made from a blend of 4 different types of local apples such as: Cartigny, Marin Onfroy, Petit Amer and Grasse Lande all harvested by hand. A non-carbonated, unpasteurized, full bodied cider where the keeving process (see Keeved cider: Pilton In Touch) has been used. The preservation of this old keeving method, where the full fermentation is prevented, makes naturally sweet, sparkling cider one of the main
characteristics of this area along with the pleasant bittersweet aftertaste (that need be considered a trademark of this region). On top of that the phenolic compound gives complexity and aromatic bouquet to the final cider.
On the nose you can find fruity, ripe apples with yeasty, smokey notes and a funk verve that cannot be missed. These characteristics match with the palate as well. It has a nice depth and the satisfying bittersweet aftertaste makes this cider enjoyable and persuades you to drink more, even if you should preserve it and age it throughout the years.

Yeah, I am not joking, Cotentin cider AOP can be aged. The sturdy bitterness, the touch of acidity and the reasonable low amount of sugar level, provides a great potential for ageing, becoming even more exciting and improving throughout the time: like some particular wines and champagnes, it would be a shame to drink it in the same year.

For these reasons, in 2020, these 9 producers of Cotentin AOP (Lemasson included) gathered to launch a new idea to promote this initiative of ageing their cider before selling it.

The producers themselves will keep your just-purchased-cider (just a maximum of 12 bottles can be purchased) in their cellar for the next two years and you will get it once it reaches the optimum time to enjoy it at its best; they will guarantee the greatest ageing conditions in terms of humidity and temperature. This new system is benefitting both sides: an advantage for clients who have little storage at home; and a way for the producers to limit the demand in order to maintain the quality. This will avoid overproduction and further exploitation of the land in order to safeguard this beautiful territory already damaged by historical events.