About real perry
Perry, or poiré in French, like cider, is made from 100% pure juice that's fermented, but in this case from pears.
A number of cider makers also grow pears and produce perry in addition to cider.
The Dutch Uwe produces a lovely crisp dry pear cider and many British companies such as Gregg's Pit, Dunkertons, Oliver's and Once Upon a Tree also produce a very nice perry in addition to beautiful ciders. The latter even makes a special iced perry called "The Wonder".
The three counties (Herefordshire, Worcestershire and Gloucestershire) in England are known for their excellent perries. The Slow Food UK movement is responsible for perries bearing the appellation label Three Counties perry being included in the so-called "Ark of Taste".
A lot of French perries come from the Domfront region, surrounded the village of the same name.
Appels & Peren has about 20 different perries in stock.
Like cider, the taste of perries varies from fresh and sweet to very dry. Many perries have a distinctive fruity pear aroma and a pleasant sourness.
Enjoyable as a delicious, fresh aperitif, but also perfect for lunch or with a dessert.
Pear varieties for Perry
Besides the soil and the craftsmanship of the production process, the species of pear that is used is important in making a beautiful perry.
English pears used for perry often have unique names, named for their shape (Red Huffcap, Black Huffcap), their first grower (Judge Amphlett, Stinking Bishop) or the effect that drinking would invoke (Merry Legs, Mumble Head).
In Gloucestershire alone there are more than 100 different species. The most commonly used type of pear for perry in England is the Blakeney Red.
There are at least as many varieties of French perry pears. In Domfront, 30 different types of perry pears are used. These are often small pears such as the Vigné Rouge, Gros Blot, Plant Roux, the Cloche and Gaubert. To bear the qualification Appellation d'Origine Protégé Domfront, at least 40% of the contents of the perry must consist of the sour juice of Plant de Blanc pears. However, that may often be an even higher percentage of 60-80% or even 100%.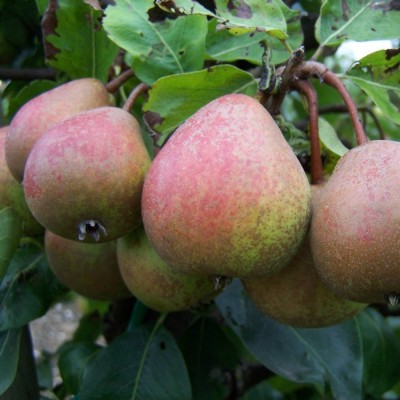 Blakeney Red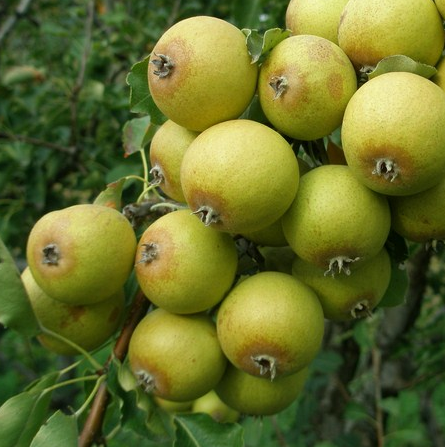 Plant de Blanc